Rock out with the band! Resistance bands are a great addition to any strength training routine or rehabilitation program, and they come in a variety of sizes, lengths, and resistance levels.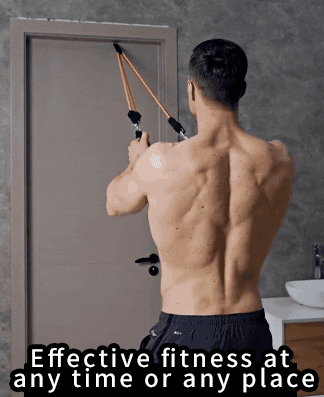 They're also portable and easy to store, so they're perfect for home use, hotel workouts, or making the most of a small space at the gym. Just like free weights, exercise bands come in a range of resistance levels, from highly stretchable to heavy-duty strength.
ANTI-SNAP PROMISE – Our premium workout bands are made of the highest quality, using 100% Natural Latex from Malaysia with high elasticity and extra thick high-grade silicon that will not dry out, snap, or deform. Developed with you in mind, each tube band is double layered and carefully constructed to provide maximum resistance! Our team at Tribe Fitness has 10+ years of experience manufacturing silicon products and we fully stand behind the quality of our products!
COMBINABLE STRENGTH DESIGNED FOR ANY FITNESS LEVEL - Color-coded and individually labeled, our exercise bands were designed using ideal resistance levels to help you maximize your workouts. The bands can be used alone or stacked in any combination to achieve your optimal resistance level up to 105 lbs.
TONE YOUR BODY AND BUILD YOUR BEST BOOTY - Whether you are a professional athlete looking to enhance your training, a beginner or an expert exercise enthusiast looking for a more effective workout, this versatile set will empower your training for faster and more effective results! Use these bands to intensify your muscles and build that perfect beach body! They are also the perfect resistance bands for legs and butt, glute/leg training, toning your chest, abs, biceps, triceps and more!